Welcome to the Rotary Club of New Market, Virginia

We serve the community and surrounding areas of New Market, Virginia with a variety of service projects and fundraisers that directly benefit our home area. Please contact us if you would like to learn more about our club and how you, too, can get involved by making New Market a stronger community.
Enjoy your visit to our website.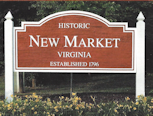 Our Hometown
is located in the heart of the beautiful Shenandoah Valley, New Market is famously known for the civil war battle fought here in 1864. But there is much much more to this quaint little town.
Read More
Weekly Meetings

are held Wednesdays at noon at the Shenvalee Golf Resort located at 9660 Fairway Drive in New Market.
These luncheon meetings feature a guest speaker.


Read More

Rotary Club of New Market awarded the Rotary Citation

The Rotary Club of New Market has been awarded the Rotary Citation, the most significant award a Rotary club can achieve, for 2021-22.

This past year, the club demonstrated a commitment to achieve its goals, which ultimately helps strengthen Rotary and shape our future.
---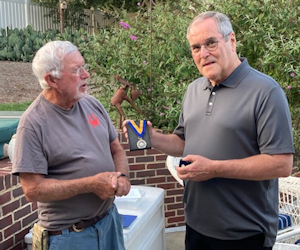 On September 17th at the Rotary Family and Friends Social, the Rotary Club of New Market awarded the Paul Harris Award for community service to Mr. Danny Rice of New Market VA. The Paul Harris Fellowship Award is the highest honor Rotary International can bestow upon a non-Rotarian. Recipients are dedicated professionals recognized for their outstanding contributions to their local community and exemplifying the highest ideal in Rotary in placing "Service Above Self." Mr. Rice has contributed greatly to not only Rotary but other valley nonprofits and has he has been instrumental in the continued success of the Rotary Club of New Market. Presenting the award is Mr. "Skip" Constable (left) who is the club's Foundation Chair.
---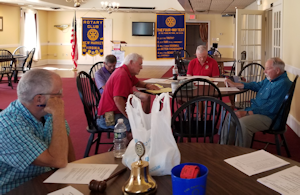 The Rotary Club of New Market Board of Directors (BOD) in action -- no we are not taking a nap ! Our Board of Directors provide both the strategic direction and continuity and decision making required to run a diverse service organization. It is by no means an easy task and requires many additional hours spent outside normal club meetings. This has been a very busy summer for the Rotary Club of New Market and our BOD has kept us on track as we continue to serve both the local community and the world around us through Service Above Self !
---
GUEST VISITORS
---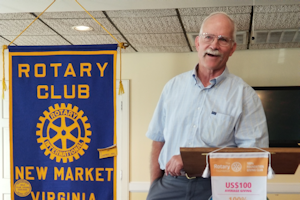 The Rotary Club of New Market was honored to have as its guest speaker Dr. Dan Hadacek who spoke to the Club about revitalizing existing but unused railroad lines in the Shenandoah Valley. The Rails with Trails (RWT) concept would retain the existing rail line in the Shenandoah Valley supplemented by bike and walking trails or "Rails with Trails." This proposed option alleviates I-81 corridor truck traffic, provides supply chain options for business and trails. Thank you Dr. Hadacek for speaking to us today.
---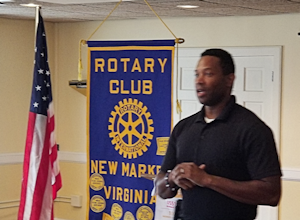 The Rotary Club of New Market was honored on August 17th to have as a guest speaker Lt. Glenn D Ogle Jr, Investigations Section Commander, Shenandoah County Sheriff's Office, Criminal Investigations Division. Lt Ogle provided a fascinating overview of the many challenges faced by the Shenandoah County Sheriff's Department. His unique insight and perspective was truly appreciated by all attendees and he gave the club an appreciation for the many challenges our men and women in blue face in a daily basis to keep us out of harm's way. Lt. Ogle though not a formal Rotarian has the heart and empathy of a Rotarian and we are blessed to have him as a member of local community.
---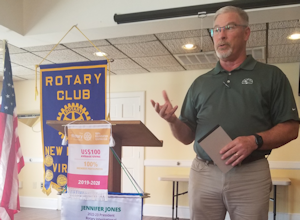 Mr. Bruce Powers, General Manager New Market Poultry, provides a fascinating overview of the operation of the poultry processing plant in New Market which is our largest employer and a responsible member of the local business community. Bruce took time out of his busy schedule to describe in detail what occurs within their plant and the challenges he faces on a daily basis to keep such a large operation moving forward.
It was GREAT to have him as our speaker.