Welcome to the Rotary Club of New Market, Virginia

We serve the community and surrounding areas of New Market, Virginia with a variety of service projects and fundraisers that directly benefit our home area. Please contact us if you would like to learn more about our club and how you, too, can get involved by making New Market a stronger community.
Enjoy your visit to our website.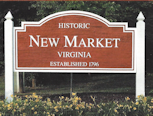 Our Hometown
is located in the heart of the beautiful Shenandoah Valley, New Market is famously known for the civil war battle fought here in 1864. But there is much much more to this quaint little town.
Read More
Weekly Meetings

are held Wednesdays at noon at the Shenvalee Golf Resort located at 9660 Fairway Drive in New Market.
These luncheon meetings feature a guest speaker.


Read More

New Market members receive service awards

On Jan 25th Rotary District 7570 Governor Ms. Kathy Kanter awarded Avenue of Service Awards to both Ms. Sandra Clatterbuck(Left) and Mr. "Skip" Constable(right) both members of the Rotary Club of New Market. Ms. Clatterbuck was recognized for service as Club's treasurer for an excess of 10 years. Through her efforts on the fund-raising committee, she was personally responsible for donations exceeding $30,000 during the 22-23 Rotary year. "Mr. Tom "Skip" Constable was recognized as the Club's Foundation Chair where dedicated efforts enabled the Rotary Club of New Market to consistently achieve 100% sustainer status which enabled the club to contribute to numerous community service projects.

It was GREAT to have the District Governor visit our small club!
---
GUEST VISITORS
---


The Rotary Club of New Market hears from its two newest members. Mr. Steven Stein(top) and Mr. Trey Selfe(bottom) recently introduced themselves to the Club as our newest members.
Hearing their respective life stories, one realizes that they have been Rotarians at heart all along!
Both are welcomed additions to our small but growing club and we look forward to knowing them better as we serve the community and world around us.

It's great to have them as members!
---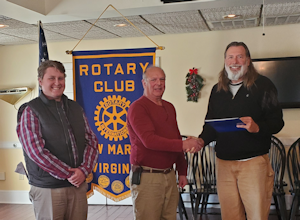 The Rotary Club of New Market VA recently inducted Mr. Trey Selfe and Mr. Steven Stein. Pictured is Mr. Jefferson Burgess(right) our Membership Chair congratulating Steven who is a Paul Harris Fellow and a recent transfer to our club.
Trey is not only or newest club member but our youngest as we seek educate younger and more diverse prospective members about the inherent goodness and transformational power of Rotary International.
---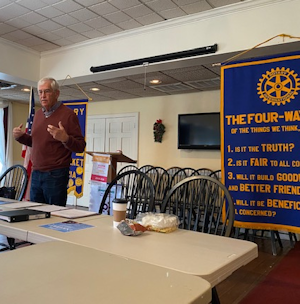 Mr. David Ferguson recently gave a moving presentation to the Rotary Club of New Market regarding a VERY special event "A Night to Shine" sponsored by the Tim Tebow Foundation. Night to Shine in Shenandoah County is an unforgettable prom night experience, centered on God's love, for individuals in the community with special needs ages 14 and older. Night to Shine will be held in the American Celebration on Parade building on Friday February 10th, 2023 from 6pm-9pm. For more information, to register, or to donate please see https://shenandoahnighttoshine.com or call 540-325-5263.
Thank you David for making us aware of this very special avenue of service for Rotarians in the Shenandoah Valley.