Welcome to the Rotary Club of New Market, Virginia

We serve the community and surrounding areas of New Market, Virginia with a variety of service projects and fundraisers that directly benefit our home area. Please contact us if you would like to learn more about our club and how you, too, can get involved by making New Market a stronger community.
Enjoy your visit to our website.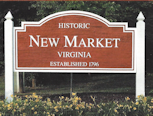 Our Hometown
is located in the heart of the beautiful Shenandoah Valley, New Market is famously known for the civil war battle fought here in 1864. But there is much much more to this quaint little town.
Read More
---
Christmas Party 2021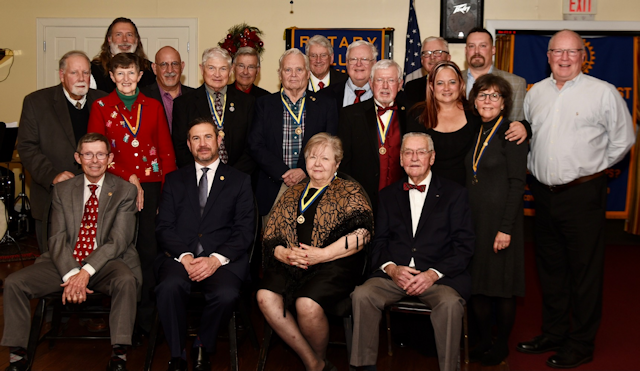 The Rotary Club of New Market VA celebrated "Service Above Self" at its annual Christmas Party on December 11 by awarding four new Paul Harris Awards. Pictured are some of those in attendance. In the Tradition of Rotary International it was a GREAT night of fellowship and friendship celebrating the accomplishments of those who have worked so hard to give back to the local community and beyond.
---
The Rotary Club of New Market Presents Paul Harris Awards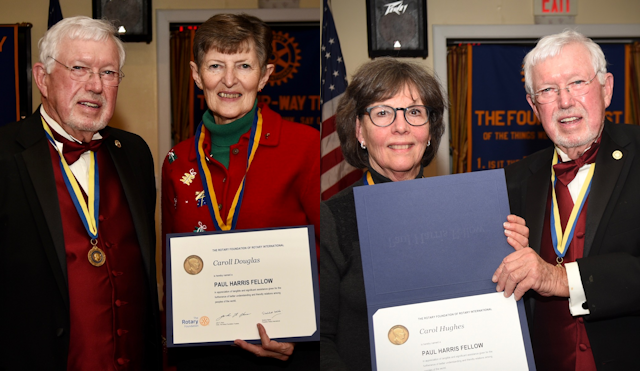 On December 11th at its annual Christmas Banquet the Rotary Club of New Market awarded the Paul Harris Award for community service to Ms. Caroll Douglas (pictured left) and Ms. Carol Hughes (pictured right) both of New Market VA. The Paul Harris Fellowship Award is one of the highest honors Rotary can bestow upon a person. Recipients are Rotarians or community professionals, in recognition of their outstanding contributions, exemplifying the highest ideal in Rotary in placing "Service Above Self." Both Ms. Douglas and Ms. Hughes have contributed greatly to the local community and have been instrumental the continued success of the New Market Rotary Club. Presenting both awards is Mr. "Skip" Constable who is the club's Foundation Chair. Mr. Constable supports the efforts of Rotary International to achieve world understanding and peace through international humanitarian, educational, and cultural exchange programs.
---
Mountain View High School Interact Club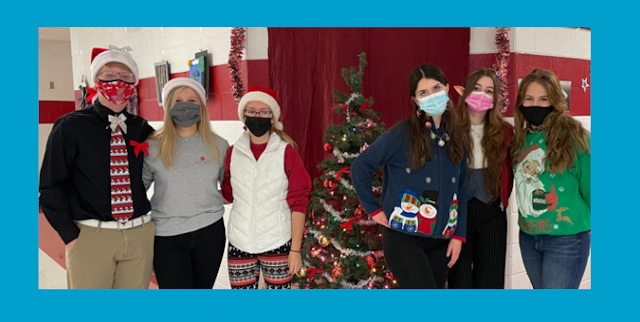 Members of Mountain View High School Interact Club (pictured above) delivered letters from Santa to local elementary schools. The club is fortunate to have these future leaders working daily to improve their local community and helping to make the Valley a better place to live.
---
Weekly Meetings

are held Wednesdays at noon at the Shenvalee Golf Resort located at 9660 Fairway Drive in New Market.
These luncheon meetings feature a guest speaker.


Read More
---
GUEST VISITORS
---

Christmas is right around the corner ! On December 1, the NMRC was treated to a delightful performance by the musicians of the Shenandoah Valley Academy (SVA) Lead by Mr. Daniel Biaggi (Head of the music department at SVA) and Ms. Kelly Weideman. Both vocalists (above) and strings (below) put on an inspiring performance. We truly are blessed to have such talented individuals in our local community.
More information on the SVA music presentations can be found at
https://www.shenandoahvalleyacademy.org/

---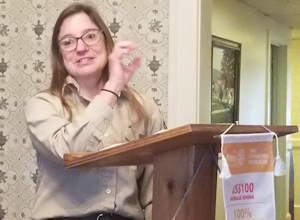 The Rotary Club of New Market was fortunate today to have as its guest speaker Ms. Mary Younce. Mary is the District Ranger Forest Service North River and Lee Ranger Districts George Washington and Jefferson National Forest. She provided a fascinating and detailed overview of the role of the Forest Service in our local area. Mary is one of our repeat guest speakers and it is ALWAYS a pleasure to have her back.