Welcome to the Rotary Club of New Market, Virginia

We serve the community and surrounding areas of New Market, Virginia with a variety of service projects and fundraisers that directly benefit our home area. Please contact us if you would like to learn more about our club and how you, too, can get involved by making New Market a stronger community.
Enjoy your visit to our website.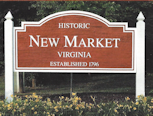 Our Hometown
is located in the heart of the beautiful Shenandoah Valley, New Market is famously known for the civil war battle fought here in 1864. But there is much much more to this quaint little town.
Read More
Weekly Meetings

are held Wednesdays at noon at the Shenvalee Golf Resort located at 9660 Fairway Drive in New Market.
These luncheon meetings feature a guest speaker.


Read More

Rotary Club of New Market awarded the Rotary Citation

The Rotary Club of New Market has been awarded the Rotary Citation, the most significant award a Rotary club can achieve, for 2021-22.

This past year, the club demonstrated a commitment to achieve its goals, which ultimately helps strengthen Rotary and shape our future.
---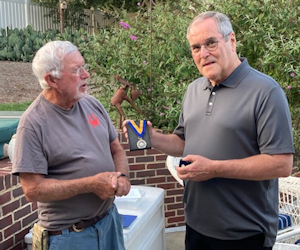 On September 17th at the Rotary Family and Friends Social, the Rotary Club of New Market awarded the Paul Harris Award for community service to Mr. Danny Rice of New Market VA. The Paul Harris Fellowship Award is the highest honor Rotary International can bestow upon a non-Rotarian. Recipients are dedicated professionals recognized for their outstanding contributions to their local community and exemplifying the highest ideal in Rotary in placing "Service Above Self." Mr. Rice has contributed greatly to not only Rotary but other valley nonprofits and has he has been instrumental in the continued success of the Rotary Club of New Market. Presenting the award is Mr. "Skip" Constable (left) who is the club's Foundation Chair.
---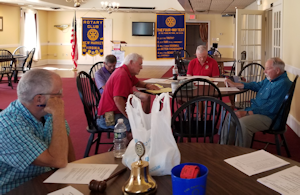 The Rotary Club of New Market Board of Directors (BOD) in action -- no we are not taking a nap ! Our Board of Directors provide both the strategic direction and continuity and decision making required to run a diverse service organization. It is by no means an easy task and requires many additional hours spent outside normal club meetings. This has been a very busy summer for the Rotary Club of New Market and our BOD has kept us on track as we continue to serve both the local community and the world around us through Service Above Self !
---
GUEST VISITORS
---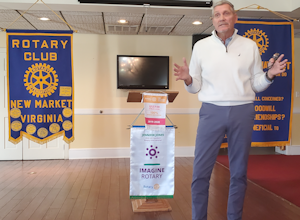 The Rotary Club of New Market was honored to have as its guest speaker today Mr. Todd Walters, Town Manager for New Market VA. Todd, brought the club up to speed on a number of current issues that directly impact our club and the local community such as: the projected expansion of housing on Click's lane: the future use of the Community Center and recapitalization of the town's aging water supply/storage tower.
Being a Town Manger is by no means an easy task and we appreciate Todd taking the time out of his busy schedule to meet with us.
---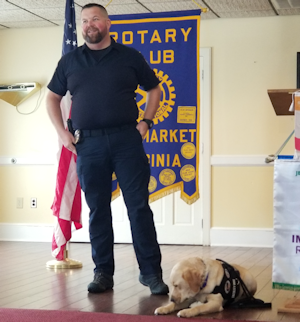 The Rotary Club of New Market was blessed today to hear from two guest speakers -- Chief Chris Rinker and the town's newest employee "Benelli."
Chris explained that as a "Facility Dog" Benelli is trained to provide comfort and support to victims of trauma and those with mental health concerns.
It is always a pleasure to have our Chief at our meetings as he is one of the keystones of our local community but especially now that Benelli is with him.
Benelli was made an honorary member of the New Market Club today as he abides by our motto "Service Above Self.
---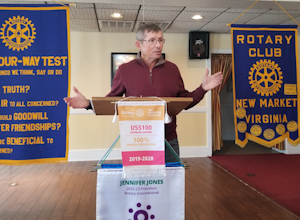 Mr. Jim Douglas (President Emeritus) provides the Rotary Club of New Market with a detailed overview of how to prepare your lawn, garden, and trees for the Fall and Winter season. Jim was a county extension agent for years from Alaska to the lower 48 and his expertise is always valued by our members. Many sideline conversations continued after his detailed presentation! Both Jim and his wife Caroll are extremely active in the local community and are both Paul Harris Fellows. We are blessed to have them in our community.